A multi-cloud strategy has many advantages, but it undoubtedly adds an extra layer of management complexity -- especially if multi-cloud adoption develops in an ad hoc manner rather than being planned from the ground up. In the Forrester/Virtustream survey referenced earlier, there was a roughly equal split on the latter issue: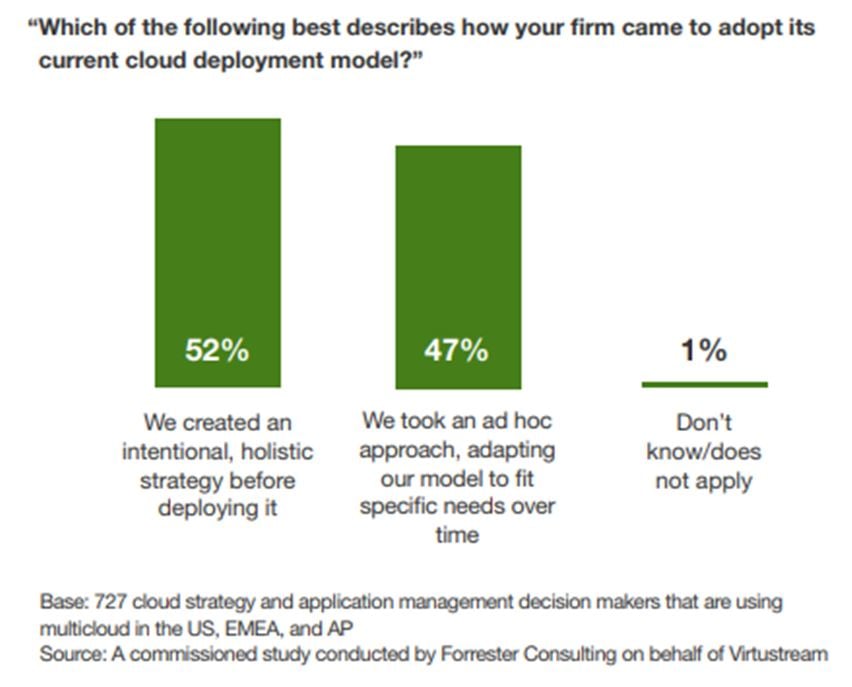 Given the level of ad hoc adoption, it's no surprise to find that respondents favored cloud providers offering add-ons such as cloud strategy service, deployment, migration and management capabilities. They also preferred vendors with whom they have long-term IT partnerships, and tend to reach out to a pre-approved list of vendors.
In Spiceworks' Public Cloud Trends in 2019 and Beyond survey, 'Managing multiple cloud solutions' ranked fifth in the areas where businesses need more support from cloud vendors, with this requirement more pressing for small and mid-size businesses than enterprises: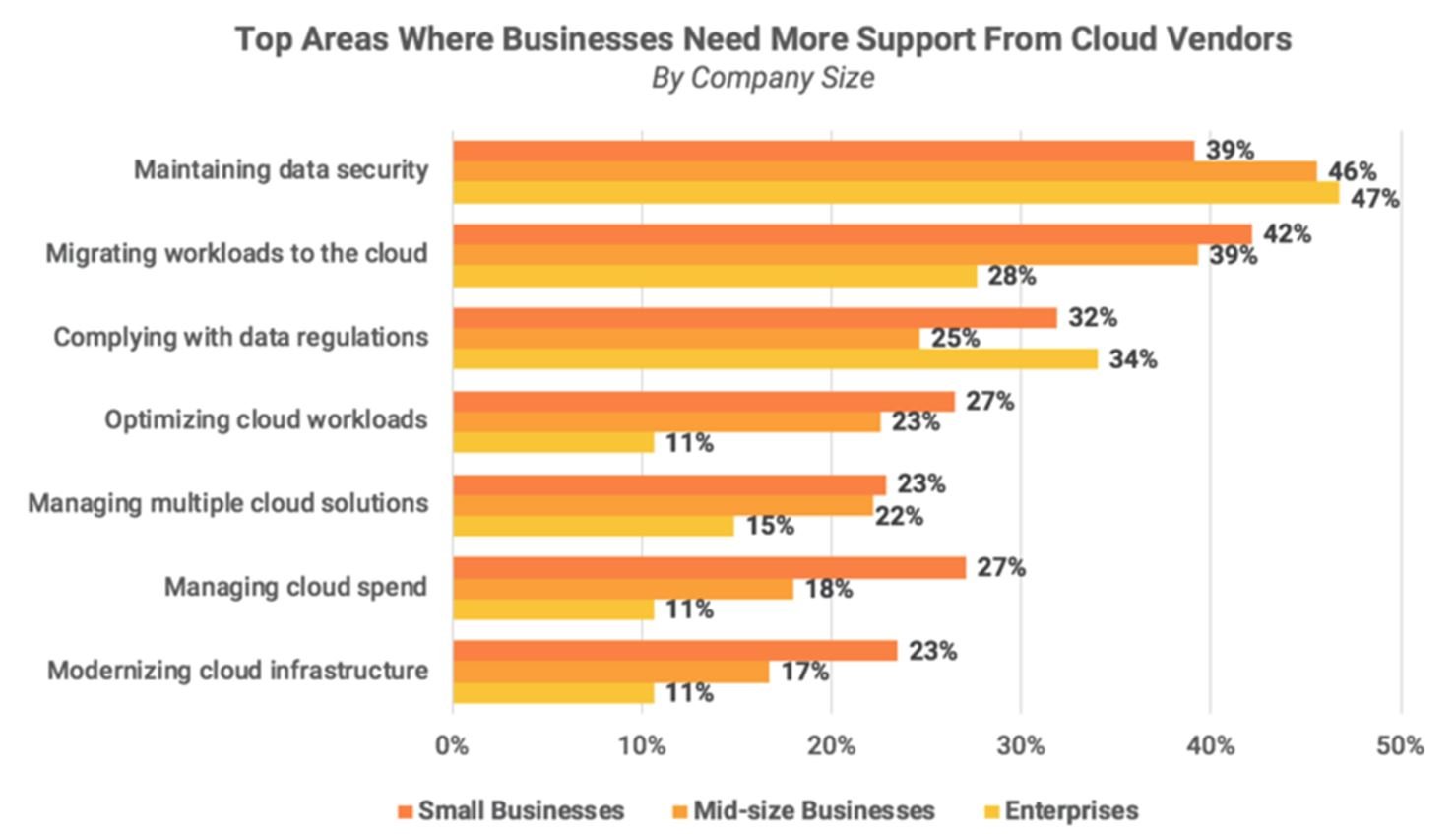 Hybrid Cloud Benefits
If we accept that the hybrid cloud combines the best elements of private and public clouds, then the benefits of hybrid cloud solutions are clear, and we can identify the primary two benefits that result from the blending of private and public clouds.
Benefit 1: Flexibility and Scalability
Undoubtedly, the primary advantage of the hybrid cloud is its flexibility. It takes time and money to manage in-house IT infrastructure and adding capacity requires advance planning.
The cloud is ready and able to provide IT resources whenever needed on short notice. The term cloud bursting refers to the on-demand and temporary use of the public cloud when demand exceeds resources available in the private cloud. For example, some businesses experience seasonal spikes that can put an extra burden on private clouds. These spikes can be taken up by a public cloud. Demand also can vary with geographic location, events, or other variables. The public cloud provides the elasticity to deal with these and other anticipated and unanticipated IT loads. The alternative would be fixed-cost investments in on-premises IT resources that might not be efficiently utilized.
For a data storage user, the on-premises private cloud storage provides, among other benefits, the highest speed access. For data that is not frequently accessed, or needed with the absolute lowest levels of latency, it makes sense for the organization to move it to a location that is secure, but less expensive. The data is still readily available, and the public cloud provides a better platform for sharing the data with specific clients, users, or with the general public.
Benefit 2: Cost Savings
The public cloud component of the hybrid cloud provides cost-effective IT resources without incurring capital expenses and labor costs. IT professionals can determine the best configuration, service provider, and location for each service, thereby cutting costs by matching the resource with the task best suited to it. Services can be easily scaled, redeployed, or reduced when necessary, saving costs through increased efficiency and avoiding unnecessary expenses.
When Hybrid Might Not Always Be the Right Fit
There are circumstances where the hybrid cloud might not be the best solution. Smaller organizations operating on a tight IT budget might best be served by a purely public cloud solution. The cost of setting up and running private servers is substantial.
An application that requires the highest possible speed might not be suitable for hybrid, depending on the specific cloud implementation. While latency does play a factor in data storage for some users, it is less of a factor for uploading and downloading data than it is for organizations using the hybrid cloud for computing.
It is essential to have a good understanding of workloads and their essential characteristics in order to make the hybrid cloud work well for you. Each application needs to be examined for the right mix of private cloud, public cloud, and traditional IT resources that fit the particular workload in order to benefit most from a hybrid cloud architecture.
The Hybrid Cloud Can Be a Win-Win Solution
From the high altitude perspective, any solution that enables an organization to respond in a flexible manner to IT demands is a win. Avoiding big upfront capital expenses for in-house IT infrastructure will appeal to the CFO. Being able to quickly spin up IT resources as they're needed will appeal to the CTO and VP of Operations.
Should You Go Hybrid?
We've arrived at the bottom line and the question is, should you or your organization embrace hybrid cloud infrastructures?
According to 451 Research, by 2019, 69% of companies will operate in hybrid cloud environments, and 60% of workloads will be running in some form of hosted cloud service (up from 45% in 2017). That indicates that the benefits of the hybrid cloud appeal to a broad range of companies.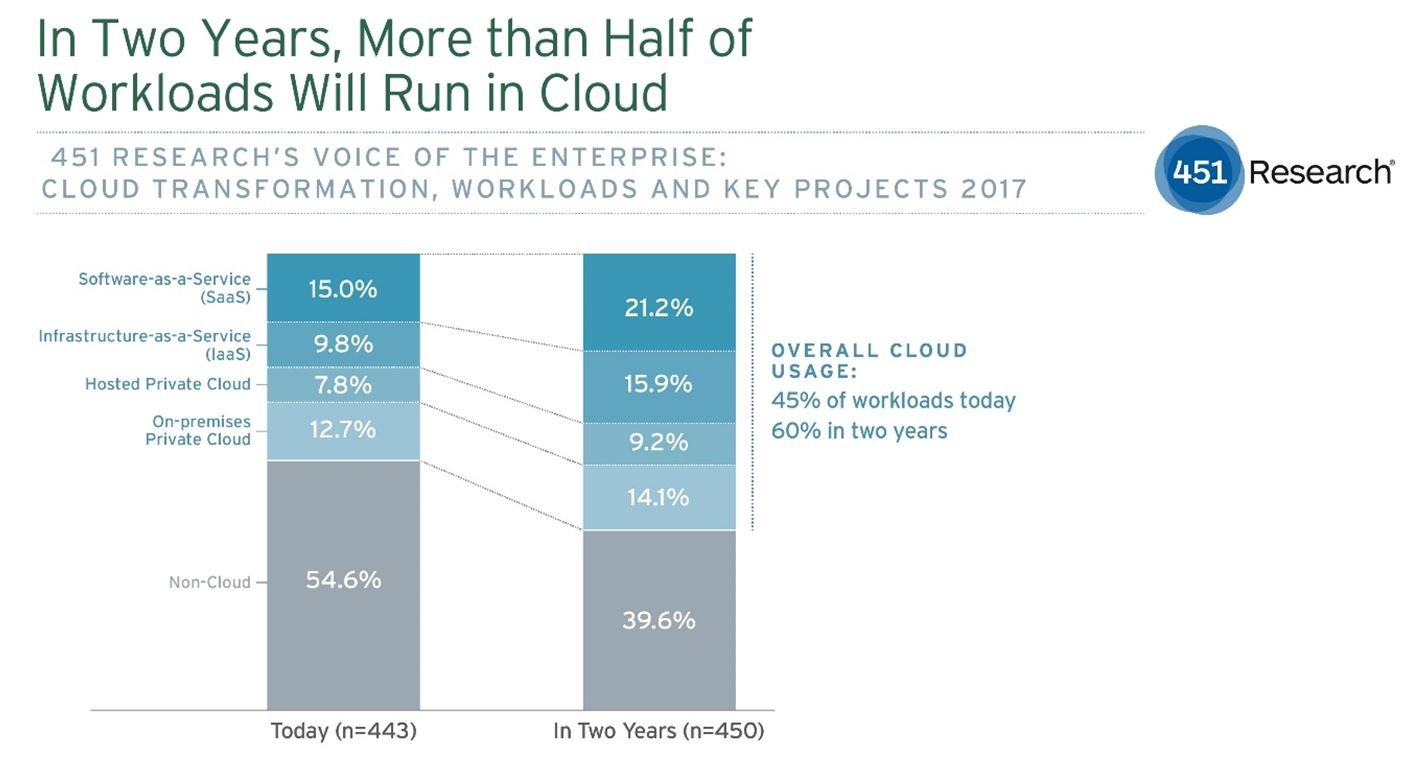 Clearly, depending on an organization's needs, there are advantages to a hybrid solution. While it might have been possible to dismiss the hybrid cloud in the early days of the cloud as nothing more than a buzzword, that's no longer true. The hybrid cloud has evolved beyond the marketing hype to offer real solutions for an increasingly complex and challenging IT environment.
If an organization approaches the hybrid cloud with sufficient planning and a structured approach, a hybrid cloud can deliver on-demand flexibility, empower legacy systems and applications with new capabilities, and become a catalyst for digital transformation. The result can be an elastic and responsive infrastructure that has the ability to adapt to the changing demands of the business quickly.
As data management professionals increasingly recognize the advantages of the hybrid cloud, we can expect more and more of them to embrace it as an essential part of their IT strategy.
Private, public, and hybrid cloud computing are gaining popularity as companies seek efficient, cost-effective technology and compute solutions that address their needs in real-time. For IT teams, the array of connections, integrations, portability issues, resource options, orchestration, and storage options have increased exponentially—as has the complexity of installing and maintaining cloud environments. But technology alone isn't enough. A thoughtful, strategic, and detailed approach to cloud deployment is essential for success.
Determining what to keep on-site, what to put in the cloud, and how those will work seamlessly together while considering the impact on IT teams should be the top priority when creating a hybrid cloud environment. IT teams should address four essential considerations as they define their hybrid cloud strategy.
Identify your goals
Start with your objective then determine the precise steps you need to take to get there. Before putting your cloud strategy in motion, you should:
Understand and clearly articulate what you are trying to achieve.
Define clear and specific key performance indicators (KPIs) as well as criteria for success.
Research applicable policies and regulations for every aspect of your implementation.
Identify stakeholders—detractors as well as supporters—and walk them through how you plan to address concerns and potential roadblocks.
Identify implementation challenges and consider options for addressing them before you start, taking into account organizational goals for automation, management, and scalability.
Analyze which existing applications and workloads can and should be migrated to a new environment, then map out the people and budget you will need for proper support
Get Educated
Hybrid clouds normally use technologies such as containers, container orchestration, common operating systems, runtime environments, flexible storage, and universal developer frameworks and tools. They are used for everything from Software-as-a-Service (SaaS) deployments to tools for data analytics, machine learning, and database functions. Hybrid clouds designed with portability in mind can orchestrate cloud workloads under unified management, but they require the successful navigation of myriad connections and integration points.
Build your Strategy
Follow a proven approach for cloud implementation, and create a thorough checklist to ensure nothing is overlooked in discovery, design, build, proof of concept, testing, and migration. You should:
Address all potential concerns, issues, and roadblocks before beginning.
Research successful use cases and align architectures to your company's business needs and operating environment.
Brace for Impact
Cloud implementation will affect workflows, automation, management policies, and more. You should:
Partner with your company's operations team from the beginning, and engage them throughout the implementation. The better they are prepared, the smoother the transition will be.
Be diligent about communications and documentation—keep all stakeholders informed and aligned throughout the project.
To work through your cloud strategy, follow this checklist:
Discover: Nail down and sort out short‐term and long-term requirements with IT and business partners. This process includes identifying challenges, articulating business objectives, and determining workloads to move to the cloud.
Design and build: Make sure the design fits your specific business strategies and use cases for the delivery of a Minimally Viable Product (MVP) that can scale as your company grows.
Testing/Validation: Validate your technical design and try service features, assess their life cycle (for example, how they're updated/upgraded), see how they work, and assess organization fit and impact.
Migration plan: Set a strategy for how best to migrate your selected applications. Standardize and establish automation mechanisms and operational processes.
Operationalize: Tune your cloud infrastructure to your performance needs and add/integrate the operational toolset you need to detect and respond to failures in lightning speed. It is not a question of whether your infrastructure or application will fail; it is when and how fast you will detect and recover from faults. The goal is that any failure isn't observed by your end‐users.
Iterate: Revisit your initial MVP design for further improvements. Design changes to accommodate new business needs. Don't try to "boil the ocean" in your first attempt. Define increments and sprints with clear achievable outcomes that are time-bound. This process helps you look at all possible technologies and solutions and to come up with a solid action plan. It creates the roadmap for seeing your cloud project through from beginning to end.
Achieving a flexible and manageable cloud infrastructure under the status quo isn't easy. There are a lot of hurdles. Today, IT leaders and staff face three main challenges:
Disparate, fragmented systems: IT operations environments usually run many different systems, which results in siloed data and resources, a plethora of issues that require hands‐on attention, and a lot of complexity.
Brittle environments: The mix of different systems, with various permission schemes and security models, leads to brittle environments that are error-prone. They're also at a higher risk for security vulnerability exploits that may not get noticed immediately or acted on promptly.
Ambiguity: Performance tracking and utilization trends take a hit because of many moving parts and data segmentation. There is simply too much left to interpretation and not enough data‐driven analysis.
So how does an organization overcome these challenges? Red Hat recommends tackling them with this approach:
Unify: Most importantly, unify IT management through a single‐pane‐of‐glass model. This means bringing all the separate environments — physical, virtual, on‐premises cloud, public cloud, and containers — into one view.
Get organized: Group IT functions into defined collections, and define role‐based access for end‐user groups based on those functions.
Visualize and monitor: Use the unified management platform to visualize all the various infrastructure environments. The data collected feeds into dashboards for at‐a‐glance trends, system issues, resource usage, and more, which enables faster, more informed decision making.
Hybrid cloud can be an effective solution for businesses with a tight focus on security or unique physical presence demands. Although there's seemingly less risk in a hybrid cloud model, a connection to the public cloud does have data security implications. This, however, is true of almost any public network communication.
And while the upfront cost of server hardware for the private end of the hybrid cloud is high, the control that IT departments can wield over hardware selection and system design for the private component offers an invaluable way of properly tailoring resources to the business's needs. Assembling a private cloud to handle a standard workload, with burst compute offloaded to the public cloud, can be a long-term budget-friendly arrangement.
Ultimately, the hybrid cloud allows organizations to leverage public cloud services without offloading the entirety of their data to a third-party data center. This provides a great deal of flexibility in computing tasks, while keeping vital components within the company firewall.
Contact GlassHouse Systems today to learn more about how your organization can benefit from a modern hybrid cloud implementation.
For Canada and worldwide, contact our main Canadian offices:
+1 (416) 229-2950
+1 (416) 229-9096
By email: canada@ghsystems.com
For all US-based enquiries, please contact our main US offices at:
+1 (630) 724-8500
+1 (630) 724-8509
By email: us@ghsystems.com