As organizations attempt to strike a balance between having all IT services on-premises and offloading storage and compute to the cloud, a logical middle ground has emerged: the hybrid cloud.
Odds are your IT ecosystem sprawls across public and private clouds, bare-metal servers, and virtualized infrastructure. To make the most of those environments, you need to move applications and workloads across them.
Modern IT is a hybrid IT. Your enterprise has the infrastructure, platforms, apps, and tools from different vendors. Proprietary tools don't talk to each other. And apps cross clouds slowly, weighed down by data. You need advancements in infrastructure, management, and development that bring your clouds together. There are varying definitions of "hybrid cloud" depending upon whom you ask and what they're trying to sell you. But they all have this in common with one another: They refer to a single software hosting platform whose resources come from multiple sources, some from the public cloud (e.g., Amazon AWS, Microsoft Azure, Google Cloud Platform) and some -- perhaps many -- from your organization's own data center. Here is Forrester Research's idea of the hybrid cloud: "One or more public clouds connected to something in my data center. That thing could be a private cloud; that thing could just be a traditional data center infrastructure."
To put it simply, a hybrid cloud is a mash-up of on-premises and off-premises IT resources.
To expand on that a bit, we can say that the hybrid cloud refers to a cloud environment made up of a mixture of on-premises private cloud resources combined with third-party public cloud resources that use some kind of orchestration between them. The advantage of the hybrid cloud model is that it allows workloads and data to move between private and public clouds in a flexible way as demands, needs, and costs change, giving businesses greater flexibility and more options for data deployment and use.
In other words, if you have some IT resources in-house that you are replicating or augmenting with an external vendor, congratulations, you have a hybrid cloud! Cloud computing adoption is well established in enterprises, SMEs and startups. But how much cloud should a business adopt? How should workloads be deployed -- across public, private and hybrid clouds? And if multiple cloud providers (public and/or private) are used, which ones should you choose, and how can they be managed to a business's best advantage?
It's worth distinguishing between 'multi-cloud' and 'hybrid cloud' at this point, as there is some scope for confusion here.
'Hybrid Cloud' has traditionally meant the combination of private (either on-premises or hosted in a colocation facility) and public cloud infrastructure, with orchestration tools used to deploy workloads and manage the balance between the two -- employing public cloud resources for regular or episodic bursts of compute and/or storage requirements, for example.
'Multicloud', by contrast, has more strategic emphasis, describing how enterprises use multiple cloud providers to meet different technical or business requirements. At its most granular, multicolored means cloud-native applications built from containers and microservices using component services from different cloud providers.
Private Cloud vs. Public Cloud
The cloud is really just a collection of purpose-built servers. In a private cloud, the servers are dedicated to a single tenant or a group of related tenants. In a public cloud, the servers are shared between multiple unrelated tenants (customers). A public cloud is off-site, while a private cloud can be on-site or off-site — or, in common IT parlance, on-prem or off-prem.
As an example, let's look at a hybrid cloud meant for data storage, a hybrid data cloud. A company might set up a rule that says all accounting files that have not been touched in the last year are automatically moved off-prem to cloud storage to save cost and reduce the amount of storage needed on-site. The files are still available; they are just no longer stored on your local systems. The rules can be defined to fit an organization's workflow and data retention policies.
The hybrid cloud concept also contains cloud computing. For example, at the end of the quarter, order processing application instances can be spun up off-premises in a hybrid computing cloud as needed to add to on-premises capacity.
Public Cloud Workloads Today
Now let's take a step back to examine the state of public cloud workloads today. According to our latest survey of IT decision-makers in Spiceworks, we know that on average, organizations run 27% of all business workloads, applications, and services in public clouds. Looking forward, this number is expected to nearly double to 48% in the next one to two years.
When comparing the data by company size, smaller organizations expect to have a higher proportion of their workloads, services, and apps running in public clouds within the next one to two years. In fact, by 2021, small businesses expect to run 53% of their workloads in public clouds, compared to 46% for mid-size business workloads, and 41% for enterprise workloads.
How do multi-cloud strategies play out in practice? A July 2018 survey by analyst firm Forrester on behalf of Virtustream found that 86% of respondents (727 cloud strategy and application management decision-makers in the US, EMEA and APAC) characterized their organizations' cloud strategy as 'multi-cloud', identifying most with the description 'Using multiple public and private clouds for different application workloads':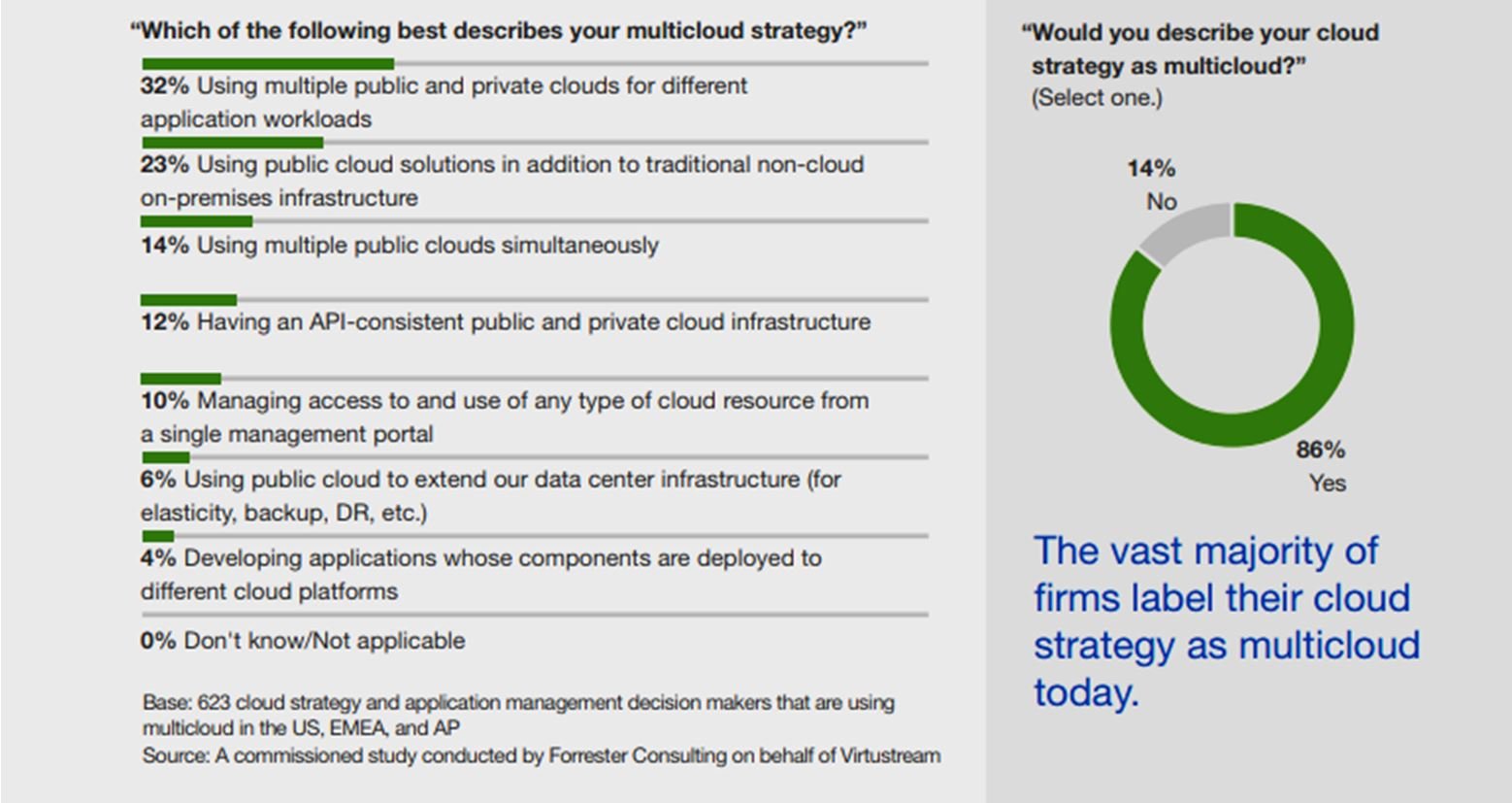 Respondents to the Forrester/Virtustream survey defined multi-cloud in several ways, including: leveraging multiple cloud technologies at once (32%); using public cloud in parallel with traditional non-cloud systems (23%); and using multiple public clouds simultaneously for different workloads (14%). According to the annual RightScale State of the Cloud Report, the use of multiple clouds is by far the most common pattern among enterprises, with the single public, single private and 'no plans' reported by around 10% of survey respondents or fewer. Among enterprises that use multiple clouds, the hybrid cloud model is adopted by nearly 60%, with multiple public and multiple private clouds much less popular (<20%). Over recent years, the number of cloud providers used has averaged just over three for public cloud and just under four for private cloud: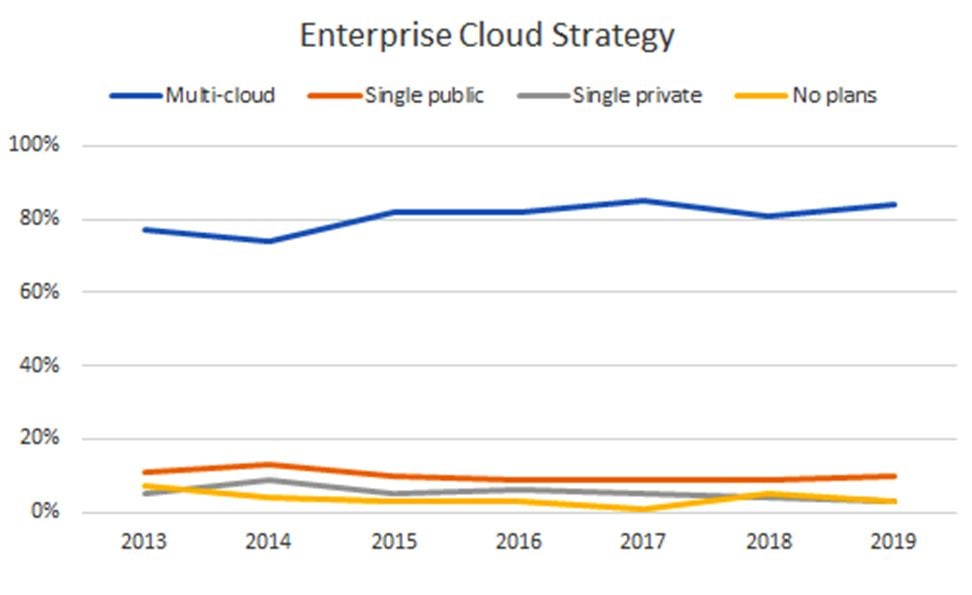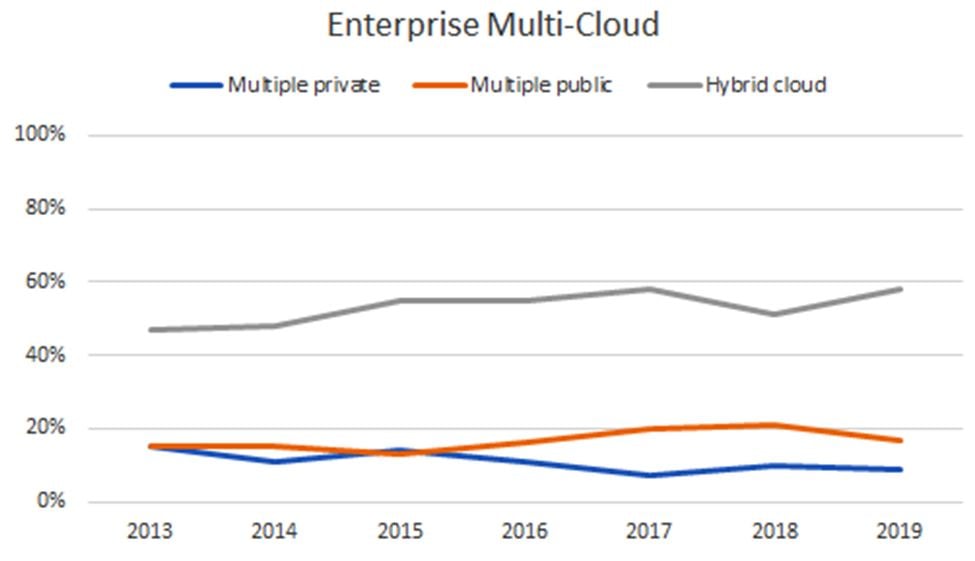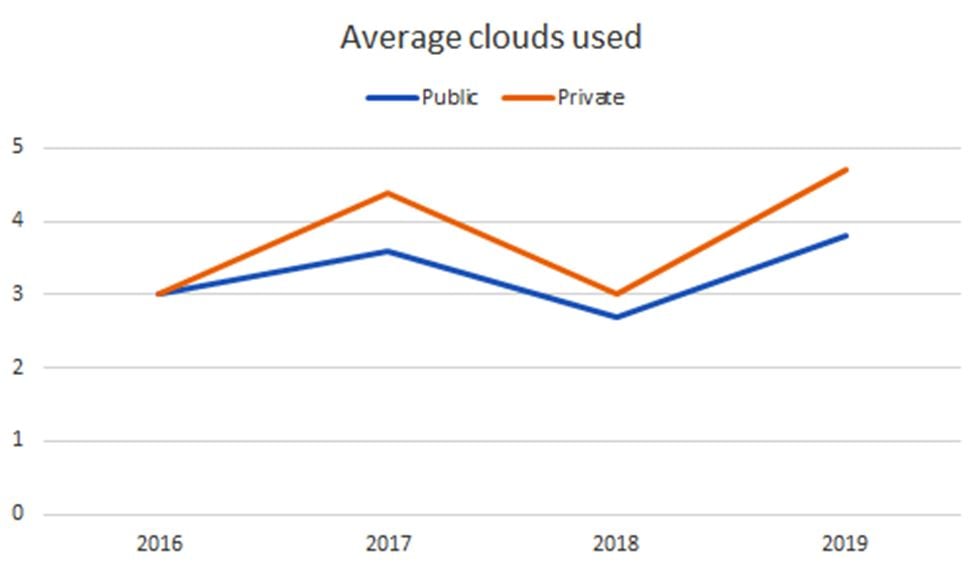 It would seem that the hybrid cloud model, and the use of multiple cloud providers, is the norm among enterprises. Which cloud providers are being used? RightScale's reports show Amazon Web Services (AWS) is the clear leader in the public cloud, with Microsoft Azure making rapid gains and Google Cloud Platform some way back in third place. Other leading public cloud players are VMware Cloud, IBM Cloud, Oracle Cloud and Alibaba Cloud: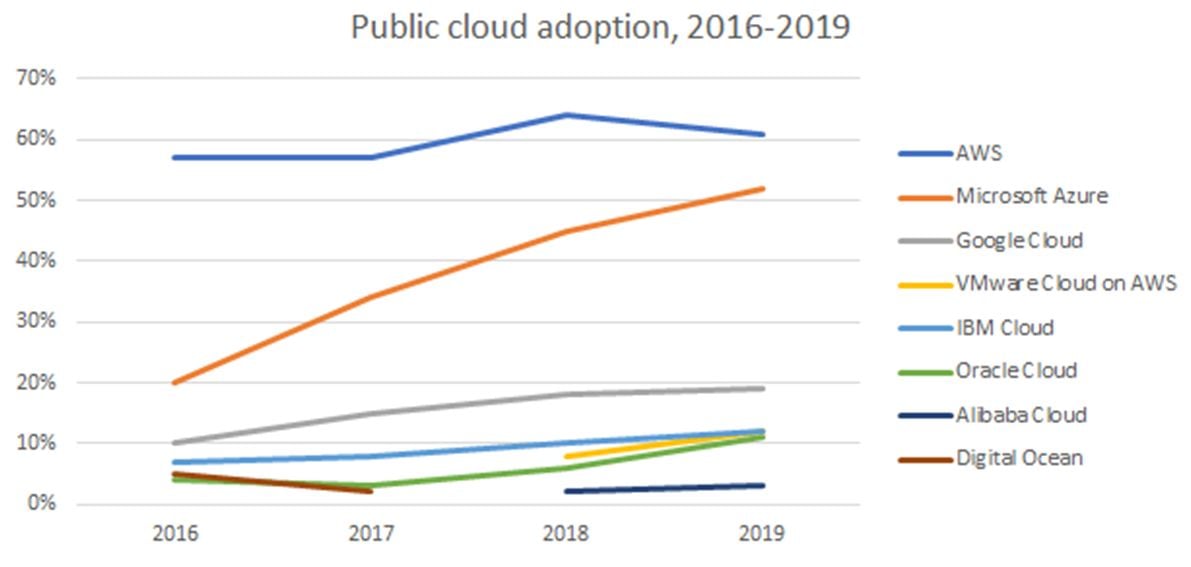 Among the private cloud providers, VMware is the clear leader, with vSphere in the lead and vCloud Director in third place, separated by OpenStack. Microsoft has a strong private cloud showing with System Center and Azure Stack, while CloudStack is a consistent presence and AWS Outposts -- Amazon's private cloud offering -- is beginning to make its presence felt: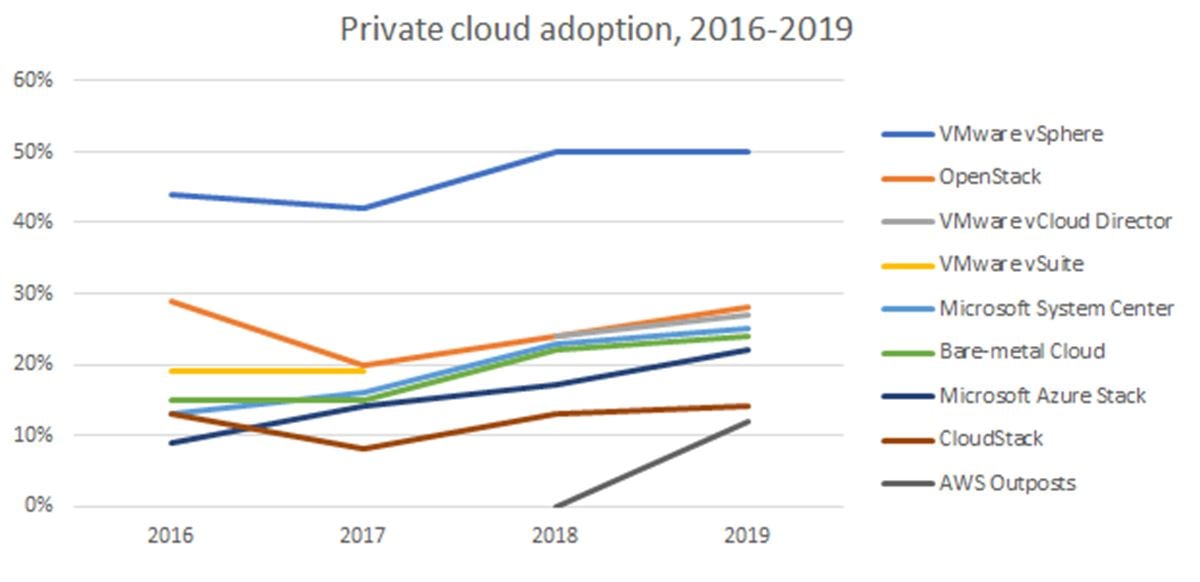 Why choose multiple clouds?
It's clear from these and other surveys that organizations routinely use multiple cloud providers. So why are they adopting this strategy?
Vendor lock-in
One of the most widely cited drivers of multi-cloud adoption is the desire to avoid becoming locked into a particular cloud provider's infrastructure, add-on services and pricing model. Cloud-native applications based on containers and microservices can certainly be designed to be portable between clouds, but providers will generally try and make their platforms 'sticky' with specific functions and services that differentiate them from their rivals. This means that a portable 'lowest common denominator' application may not exploit a cloud provider's full potential, and that businesses will therefore have to determine the trade-off between portability and full functionality -- with potential lock-in -- for particular workloads. The result across multiple workloads is likely to be a multi-cloud strategy. As Gartner analyst Michael Warrilow puts it: "Most organizations adopt a multi-cloud strategy out of a desire to avoid vendor lock-in or to take advantage of best-of-breed solutions... We expect that most large organizations will continue to willfully pursue this approach."
Shadow IT
An organization may end up with a multi-cloud strategy by accident, via the agency of 'shadow IT' -- that is, technology adopted by business units independently of the IT department, which may subsequently be 'reined in' for oversight by the CIO. The extent of shadow IT revealed by McAfee's 2019 Cloud Adoption and Risk Report is startling: 1,400 IT professionals in 11 countries were asked to estimate the total number of cloud services in use in their organization and came up with an average of 31. The actual average figure was 1,935: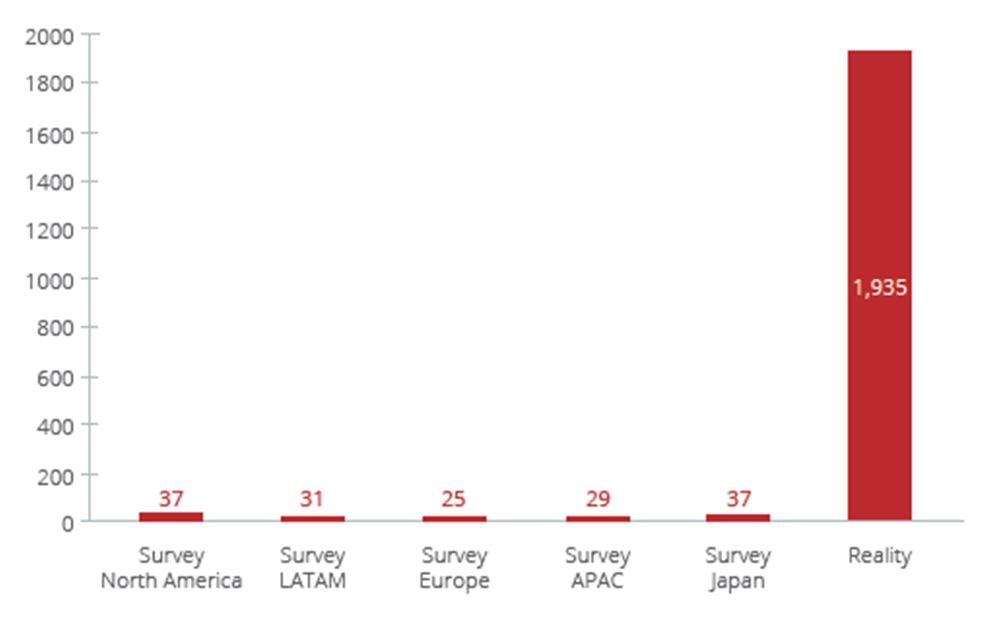 Estimated versus actual levels of cloud service usage.
Here's how those (actual) cloud services break down by category:
As you'd expect, the full gamut -- SaaS, IaaS, PaaS and other as-a-service variants -- is present.
Performance
Organizations can minimize latency -- and other performance metrics, such as jitter and packet loss -- by choosing a cloud provider with data centers that are geographically close to their customers, as performance is generally inversely correlated with the number of network hops between servers. For enterprises with a wide range of cloud-based workloads, the optimal solution is likely to involve multiple cloud providers.
Compliance
Data governance requirements -- such as the EU's GDPR, for example -- will often require customer data to be held in particular locations. Unless organizations are willing to create and maintain their own on-premises data lakes, this will often require a multi-cloud approach -- again, depending on an enterprise's geographical distribution and workload mix.
Resilience
All cloud providers -- even hyperscale ones with multiple geographically dispersed, redundant data centers -- suffer outages from time to time, so putting all your workload 'eggs' in one provider's 'basket' runs the risk of a mission-critical application becoming unavailable. A multi-cloud strategy may bring deployment and management headaches, but it should also make for better security, failover and disaster recovery -- in a word, resilience.
Contact GlassHouse Systems today to learn more about how your organization can benefit from a modern hybrid cloud implementation.
For Canada and worldwide, contact our main Canadian offices:
+1 (416) 229-2950
+1 (416) 229-9096
By email: canada@ghsystems.com
For all US-based enquiries, please contact our main US offices at:
+1 (630) 724-8500
+1 (630) 724-8509
By email: us@ghsystems.com